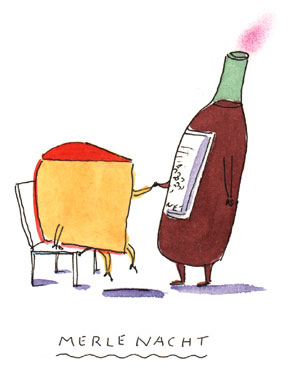 Merle Nacht began drawing when she was a child in Erie, Pennsylvania. With her mother's encouragement, she made regular visits to the local museum to draw stuffed birds. While still in grade school, she took drawing classes offered to high school students. Merle majored in illustration at the School of Art at Syracuse University (BFA, '68) and has been a professional artist ever since.
Before launching her career as a freelance illustrator, Merle's paintings and etchings were seen in eleven invitational shows and over a dozen juried shows. She received twelve prizes for her gallery work over a seven-year period.
During her 30+ year career in illustration, Merle's work appeared frequently in The New York Times (110)(*), The Wall Street Journal (68), The Washington Post (40), The Boston Globe (72), The Hartford Courant (471), Northeast Magazine of The Hartford Courant (281), Gourmet Magazine (105), Eltern Magazine – Germany (119) and many other magazines and newspapers. For twelve years she was a regular contributor to The New Yorker magazine with cover drawings (5) and black and white spot illustrations (38, subsequently re-published 141 times for a total of 179) to her credit. Merle has illustrated books for children and grownups including Mummy Took Cooking Lessons and Other Poems by John Ciardi (Houghton Mifflin), Do What You Are (Little Brown and Company), The Instant Ethnic Cookbook (Lake Isle Press), 101 Reasons to Dump Your Man and Get a Cat (William Morrow), Pages and Pockets: A Portfolio for Secrets and Stuff (American Girl Library), and On Home Ground (Houghton Mifflin, Harcourt).
Among many others, her corporate clients included Aetna Insurance, United Technologies, Pratt and Whitney, Marcel Schurman Company, and Nissan Automotive (Japan). Merle's illustrations have been selected for inclusion in shows of the American Institute of Graphic Artists, The Society of Publication Design, The Society of Illustrators and The Art Directors Club of New York City. She was invited to exhibit her work in "The Art of the New York Times" exhibition, organized by The Museum of American Illustration. United Press International and The Society of Newspaper Designers have awarded her prizes. The iconic illustrator Milton Glazer designated Merle's December 1986 design for the Cleveland Plain Dealer Magazine, which he called "extremely fresh and lively", one of the top ten magazine covers of that year.
(*) Note: The numbers in parentheses indicate the number of assignments from each publication. Individual assignments frequently included multiple drawings.
Additional note: Merle's husband Arthur counted all of these, much to her amusement.